It is so good to see that Mattel, the maker of the Barbie franchise,
is helping to raise awareness about Cancer. They have
announced that they will release a bald Barbie doll next year (2013) in support of children who have lost their hair due to cancer,
alopecia or
trichotillomania
.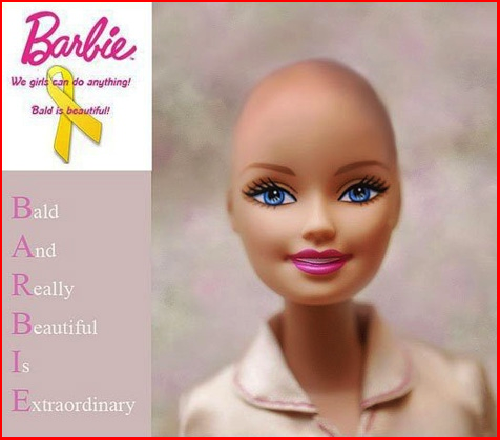 Mattel decided to produce the doll after a
Facebook appeal drew over
157,000 supporters.
The dolls will come with an assortment of wigs, hats, scarves and head coverings.
The Facebook group responsible for the appeal,
Beautiful and Bald Barbie,
has said that "[The doll is] a
lso for young girls who are having trouble coping with their mother's hair loss from chemo. Many children have some difficulty accepting their mother, sister, aunt, grandparent or friend going from long-haired to bald."
The campaigns was supported with images of bald Disney Princesses.
The
decision was applauded by doctors.
"A hairless doll could really present a great opportunity for families and medical providers to talk about illness and hair loss with kids facing those issues,"
pediatric
psychologist
Cori Liptak
stated.
It is certainly a victory for all that Mattel has come through with the Barbie doll. I grew up with Barbies, so I am personally thrilled and cannot wait to see it available in stores.
The doll will highlight that bald is beautiful and make children feel better about being bald or having bald relatives.