I recently went on an overseas holiday and one of the countries I visited was England. Whilst there I was taken aback by the prevalence of '
Cancer Research UK
.'
Many television advertisements for CRUK were broadcast on various English TV channels, and there was a significant amount of advertising on billboards, posters, telephone boxes and the like.
These ads raised awareness about
cancer
, cancer research and cancer diagnosis and, in my opinion, were very effective. Below are some examples of CRUK's skillful advertisements.
Please take a moment to check out some of CRUK's other videos on their
YouTube channel
.
The reason I, as a cancer awareness advocate, am highlighting the significant work of 'Cancer Research UK' is because I believe other cancer organisations can learn much from the work they do to increase the public's understanding of cancer. No doubt their work generates many donations to the organisation.
'Cancer Research UK' also has a large number of shops across the United Kingdom. These are a fantastic way to raise money for cancer research and also to raise the profile of cancer research.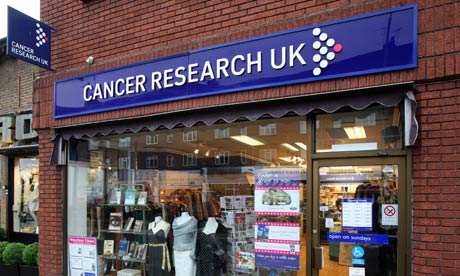 These shops sell a variety of merchandise, including products that are donated. They also sell things like food products and wrist bands.
As well a this, CRUK organises some of the more traditional cancer awareness fundraisers, such as the fun-runs that are part of their
Race for Life
program.
The fact that the significant amount of work CRUK does can be noticed within a few days of visiting the United Kingdom shows just how prevalent the organisation is. I think that cancer research charities around the world could learn something from 'Cancer Research UK' about advertising and fundraising, as CRUK has some of the most impressive ideas for raising awareness about cancer that I have come across.
Take care,